$34.99
AUD
Category: 8-12 Fiction | Reading Level: Younger Readers
Lone Annie sees dragons in your future... She sees giants. She sees fire and water. She sees death. Finn's life in the village of Wichant is hard. Only his drawings of the wild coastline, with its dragon-shaped clouds and headlands that look like giants, make him happy. Then the strange housekeeper from a mysterious clifftop mansion sees his talent and buys him for a handful of gold and then reveals to him seven extraordinary paintings. Finn thinks the paintings must be pure fantasy-such amazing scenes and creatures can't be real! He's wrong. Soon he is going to slip through the veil between worlds and plunge into the wonders and perils of The Glimme. ...Show more
$14.99
AUD
Category: 8-12 Fiction | Series: Awesome Friendly Kid
Scare yourself silly with Rowley Jefferson's Awesome Friendly Spooky Stories by Jeff Kinney, the #1 international bestselling author of Diary of a Wimpy Kid! Grab a flashlight, crawl under the covers, and dive into the twisted, unexpectedly hilarious world of Rowley Jefferson's imagination. You'll meet zombies, vampires, ghosts, and much more in these comically terrifying tales. Rowley's spooky stories might leave you laughing, but beware-you could end up sleeping with the lights on! And don't miss Rowley Jefferson's first two awesome friendly books, the instant #1 bestsellers Diary of an Awesome Friendly Kid- Rowley Jefferson's Journal and Rowley Jefferson's Awesome Friendly Adventure! ...Show more
$19.99
AUD
Category: 8-12 Fiction
Fourteen-year-old Dylan has always been troubled by her black skin, the legacy of her absent father. She lives with her French mother, and together they dream of one day sailing across the water to France. But when her mother dies in a freak accident, Dylan finds herself on a very different journey- a r oad trip in the care of her mother's grieving boyfriend, Pat. As they travel through outback towns further and further from the water that Dylan craves to take her to France to her mother's spirit, she and Pat form an unlikely bond. ...Show more
$2.99
AUD
Category: 8-12 Fiction
The annual Pharos Trainee Spy Games competition is being held at Alexandria and Kensy and Max can't wait to participate - and win! The challenges include an obstacle course, driving races, extreme parkour, coding and the big one - a treasure hunt, full of danger and intrigue. The prizes for the games ar e legendary, and with only one champion, the twins are forced to go head to head. When the stakes are raised with news of a saboteur in their midst, Kensy and Max must put all their spy skills to the test. Who is the double agent? And which of the trainee spies has what it takes to emerge victorious? A special Kensy and Max story for Australia Reads. ...Show more
$16.99
AUD
Category: 8-12 Fiction | Series: Dork Diaries | Reading Level: Children's - Grade 4-6, Age 9-11
Nikki Maxwell, Queen of the Dorks, is back in the seventh book of the blockbuster Dork Diaries series! Nikki and her friends are about to have their five minutes of fame! A reality TV crew is going to follow them for the whole month as they record their hit song together. But will the excitement also ca use unexpected problems, now that cameras are everywhere Nikki and her friends go? Is life in the spotlight really going to be all they think it is or will it be a Dork Disaster? Full of Nikki's doodles, diary entries and dorkish disasters, get ready to embrace your inner dork with his brand new novel frm the hit series! Perfect for fans of Diary of a Wimpy Kid, Tom Gates and Jacqueline Wilson.   ...Show more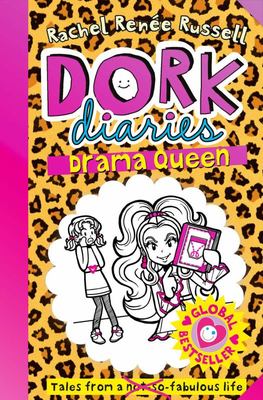 $16.99
AUD
Category: 8-12 Fiction | Series: Dork Diaries
TOTAL DISASTER!!! Mean girl MacKenzie has stolen Nikki's diary! What if she tells everyone Nikki's totally secret thoughts?! But reading Nikki's diary isn't the only thing MacKenzie's interested in. Get ready for Dork Diaries with a twist as MacKenzie takes over and tells all about her GLAMFABULOUS life ! What does the queen bee really think about Nikki and her dorky friends? The brand NEW instalment from the internationally bestselling Dork Diaries series! Perfect for fans of Wimpy Kid, Tom Gates, Jacqueline Wilson and James Patterson. The ninth book in the bestselling Dork Diaries series by Rachel Renée Russell, author of The Misadventures of Max Crumbly (publishing June 2016).    ...Show more
$16.99
AUD
Category: 8-12 Fiction | Series: Dork Diaries | Reading Level: very good
The Queen of the Dorks is back in a brand new instalment of the internationally bestselling series! After a bump on the head, Nikki has a wild dream in which she, her BFF's Chloe and Zoey, her crush Brandon, and mean girl Mackenzie all end up playing the roles of some familiar classic fairy tale charact ers. Will Nikki's dream turn into a nightmare? The eighth book in the bestselling Dork Diaries series by Rachel Renée Russell, author of The Misadventures of Max Crumbly (publishing June 2016).    ...Show more
$45.00
AUD
Category: 8-12 Fiction
An essential companion to the Harry Potter series, this spectacular new full-colour edition of J.K. Rowling'' s Quidditch Through the Ages brings together one of the worl'' s best loved storytellers with the creative genius of Emily Gravett. A sumptuous visual feast of a book, the pages are bursting wit h glorious illustrations, handmade memorabilia and two breathtaking gatefold spreads. This sporting almanac promises magic and wonder in equal measure for both newcomers to the Wizarding World and established Harry Potter fans. Each amazing page is waiting to pored over and enjoyed! Ron Weasley Devoured by Harry Potter in his first year, Quidditch Through the Ages is consulted on a daily basis by the young witches and wizards at Hogwarts. Kennilworthy Whis'' s sporting bible whisks readers through a whistle-stop tour of the wizarding worl'' s favourite sport. Packed with trivia, tales of on-pitch antics, and Quidditch stars past and present, the sports almanac also contains comprehensive profiles of Quidditch teams loved by readers of the Harry Potter novels - Chudley Cannons, Puddlemere United, Vratsa Vultures and many more......   ...Show more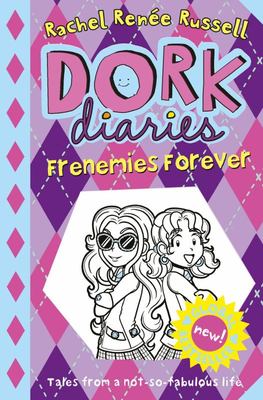 $16.99
AUD
Category: 8-12 Fiction | Series: Dork Diaries
Nikki Maxwell, Queen of the Dorks, is back in the eleventh instalment of the NYT bestselling series! Nikki is spending a week at North Hampton Hills as part of the school transfer programme. The good news is that NHH is super-cool and preppy. The bad news is that Nikki's nemesis MacKenzie started there two weeks ago!   But, faced with NHH queen bee Tiffany, who takes meanness to a whole new level, Nikki might need to work WITH Mackenzie if she's going to survive the week! Can Nikki and MacKenzie overcome their differences and become BFFs ... Best Frenemies Forever?! Praise for DORK DIARIES: 'Dork Diaries is so laugh-out-loud funny and original I stayed up late reading it, just to see what would happen next - and to get that next laugh!' Kate Brian, author of the Private series 'Spot on for the tween market' The Bookseller 'The Dork Diaries series is fast becoming my favourite for younger readers, and I really hope there are more dorky stories living in Rachel Renee Russell's head. I'm sure Nikki has many more embarrassing moments just waiting to happen, as well as lots of gossip to share about her crush on Brandon. More please!' Wondrous Reads Blog Perfect for fans of Wimpy Kid, Tom Gates, Jacqueline Wilson and James Patterson.? Now with over 30 million copies in print worldwide! ...Show more
$16.99
AUD
Category: 8-12 Fiction | Series: Dork Diaries
Let the spotlight showdown commence... Nikki Maxwell's school is holding a talent competition and Nikki can't wait to start practising dance moves with her BFFs, Chloe and Zoey, and impressing Brandon, her crush, with her singing skills! But then Nikki finds out that her arch-nemesis, MacKenzie, is ente ring the contest too, and she's determined to steal the limelight from Nikki and her friends. Can a dork like Nikki take on the most popular girl in school and win? The third book in the bestselling Dork Diaries series by Rachel Renée Russell, author of The Misadventures of Max Crumbly (publishing June 2016).    ...Show more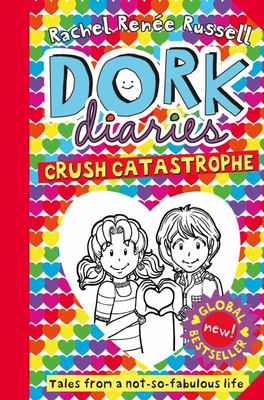 $16.99
AUD
Category: 8-12 Fiction | Series: Dork Diaries
Nikki Maxwell, Queen of the Dorks, is back in the twelfth instalment of the bestselling series! Now with over 30 million copies in print worldwide!
$15.99
AUD
Category: 8-12 Fiction | Series: Ninja Kid
Grandma has invented the COOLEST thing evera GLOVE that can bring toys to life! But when the glove is stolen, Nelson and Kenny have to find a way to get it back... before a CRAZY TOY ARMY takes over the WHOLE TOWN!