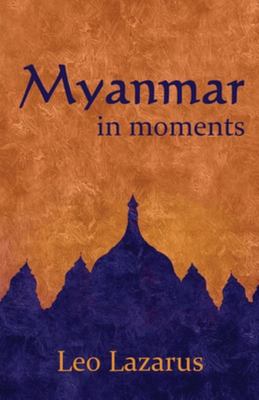 $25.00
AUD
Category: Travel Literature
Borrow my eyes and see a part of the world recently revealed. This is a story of observation and curiosity in a place which engenders confusion and marvel in turn. Travel without itineraries, without grand plans, without expectations. Travel for the thrill of discovery and the experience of moving and s topping, of choosing when to pause and soak it in, and when to get going. The only quest is to answer the endless question a stranger to a foreign land brings with them - what is life here? What is it to live, here? Take a loop around Myanmar, escaping the urban chaos to the tranquil shores of the Bay of Bengal, before joining the route of most visitors with its deserved reputation for magnificence. It is a story about being and seeing, here, now, so borrow my eyes, and take a moment in Myanmar. Leo Lazarus is a writer, poet and traveller from Melbourne, Australia. This is his first book. ...Show more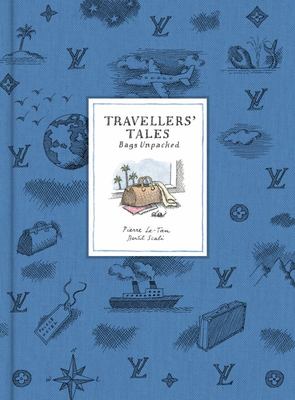 $160.00
AUD
Category: Other Travel
From heiresses to actors, aristocrats to pop stars, writers, composers, dancers, and designers, Travellers' Tales features the personalities who have traveled through the modern era, by plane, train, or car, accompanied by the iconic luggage that defines good taste: Louis Vuitton. Every traveler has a t ale to tell and every bag reveals a personal secret about its owner. In her canvas Louis Vuitton bag, Greta Garbo never kept more than a pair of blue espadrilles, flannel pajamas, and some jars of her favorite jam. (But she did have a trunk made especially for her seventy pairs of Ferragamo shoes.) Ernest Hemingway, who owned and lost several Vuitton trunks, rediscovered in 1957 notes for a novel that he'd left in a trunk at the Paris Ritz some thirty years earlier. Richard Burton made sure that Elizabeth Taylor was well supplied with Louis Vuitton trunks (as well as furs and jewels) through both of their marriages; in fact, the trunks outlasted her next two husbands as well. Pierre Le-Tan's illustrations perfectly complement Bertil Scali's entertaining portraits, unpacking the famous subjects and their bags for all to enjoy. ...Show more
$29.99
AUD
Category: Travel Guides
Anthony Bourdain saw more of the world than nearly anyone. His travels took him from the hidden pockets of his hometown of New York to a tribal longhouse in Borneo, from cosmopolitan Buenos Aires, Paris, and Shanghai to Tanzania's utter beauty and the stunning desert solitude of Oman's Empty Quarter - a nd many places beyond. In World Travel, a life of experience is collected into an entertaining, practical, fun and frank travel guide that gives readers an introduction to some of his favorite places - in his own words. Featuring essential advice on how to get there, what to eat, where to stay and, in some cases, what to avoid, World Travel provides essential context that will help readers further appreciate the reasons why Bourdain found a place enchanting and memorable. Supplementing Bourdain's words are a handful of essays by friends, colleagues, and family that tell even deeper stories about a place, including sardonic accounts of traveling with Bourdain by his brother, Chris; a guide to Chicago's best cheap eats by legendary music producer Steve Albini, and more. Additionally, each chapter includes sly, witty illustrations by cartoonist Tony Millionaire. For veteran travelers, armchair enthusiasts, and those in between, World Travel offers a chance to experience the world like Anthony Bourdain.   ...Show more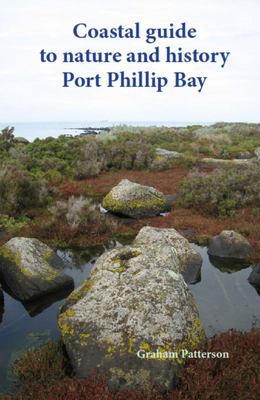 $32.00
AUD
Category: Other Travel
On holidays? Walking?  Just visiting the coast for a short outing? This book will enrich your appreciation of what you see. Common coastal animals and plants - with lots of photos Landforms - how they are influenced by geology Local history How to get to lesser-known spots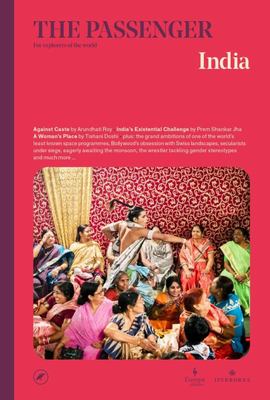 $22.99
AUD
Category: Other Travel
This compact guide to bushwalking in and around the Sydney region, designed to fit into a daypack, provides detailed track notes on 45 different walks, with information on the area's geology, flora, and fauna. Contour maps clearly delineate each route, making it easy for walkers to navigate. Includes in formation on where to stop for food, the length of each walk, and the environment. ...Show more
$34.99
AUD
Category: Travel | Series: Regional Guide Ser.
Lonely Planet: The world's leading travel guide publisher Lonely Planet East Coast Australia is your passport to the most relevant, up-to-date advice on what to see and skip, and what hidden discoveries await you. Dive the Great Barrier Reef, cruise Sydney Harbour and explore Melbourne's laneways -all w ith your trusted travel companion. Get to the heart of Australia's East Coast and begin your journey now Inside Lonely Planet East Coast Australia Colour maps and images throughout Highlights and itineraries help you tailor your trip to your personal needs and interests Insider tips to save time and money and get around like a local, avoiding crowds and trouble spots Essential info at your fingertips - hours of operation, phone numbers, websites, transit tips, prices Honest reviews for all budgets - eating, sleeping, sight-seeing, going out, shopping, hidden gems that most guidebooks miss Cultural insights give you a richer, more rewarding travel experience - history, politics, environment, climate change, cuisine, wine, sports Over 100 maps Covers Sydney, NSW Central Coast, Byron Bay, Melbourne, Great Ocean Road, Brisbane, Gold Coast, Fraser Island, Cairns, Great Barrier Reef and more The Perfect Choice: Lonely Planet East Coast Australia, our most comprehensive guide to Australia's East Coast, is perfect for both exploring top sights and taking roads less travelled.  ...Show more
$29.99
AUD
Category: Travel Literature | Series: Girls Guide to the World Ser.
Black Girls Take World is the global travel bible for young women of colour. Packed full of insider knowledge, travel tips and tricks, plus advice on how to handle the pros and cons of travelling when you stand out, this book is the perfect accompaniment for adventurous women with a serious case of wand erlust. Chapters include 'Why you deserve to travel' and 'How not to travel like a basic bitch', and there are also recommendations for DNA heritage tours, the top 5s for solo travel, advice on how to travel ethically, plus self-care tips to stay safe and deal with micro-aggressions abroad. Writer and avid traveller Georgina Lawton also incorporates her own unique travel experiences, as well as Q&As with other black female travel pioneers. As black travel continues to grow as a collective movement across the world, Black Girls Take World is essential reading for curious travellers seeking both adventure and solace. Features illustrations by Detroit artist Rachelle Baker. A book to inspire wanderlust (or just some fun armchair travel) for young women of colour.   ...Show more
$34.99
AUD
Category: Travel Guides
This guidebook is a comprehensive, pocket-sized guide to walking the pilgrimage routes through northern Spain to the sacred city of Santiago de Compostela. The Camino del Norte is an 817km five-week coastal route from the town of Ir n, close to the French border. Its alternatives are the Camino Primitiv o (which splits from the Norte near Oviedo for the next 355km) and the Camino Ingl s (a five-day 116km route from the city of Ferrol on the north-west coast). The guide gives stage-by-stage descriptions to all three routes, and to the Camino de Finisterre (a three-day extension route from Santiago to the west coast). It features lots of advice including recommended gear, useful information on all available pilgrim hostels and an extensive glossary in English, Spanish and Euskera. The Camino Franc s is often referred to as the Camino de Santiago, but it is actually, along with these Northern Caminos, part of a network of routes. As the Franc s is so popular, however, the Northern Caminos offer ideal conditions. They are popular enough to offer sufficient facilities, clear waymarking and a pilgrim community, while plentiful cheap accommodation means no need to race for a bed. ...Show more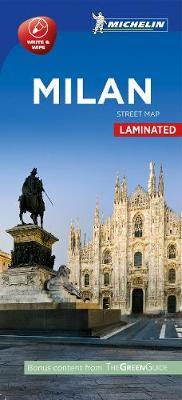 $19.99
AUD
Category: Maps | Series: Michelin City Map
Discover Milan by foot, car or bike using Michelin Milan City Plan (scale 1/15,000 cm). In addition to Michelin's clear and accurate mapping, this city plan will help you explore and navigate across Milan's different districts thanks to its full index, its comprehensive key showing places of interest an d tourist attractions, as well as practical information on public transport leisure facilities, service stations and shops! ...Show more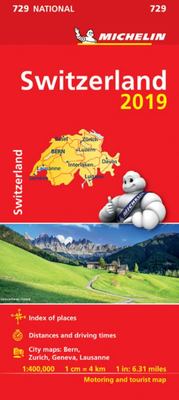 $19.99
AUD
Category: Maps | Series: Michelin National Map Ser.
Updated annually, MICHELIN National Map Switzerland 2019 (map 729) will give you an overall picture of your journey thanks to its clear and accurate mapping scale 1/400,000 Our National Map Series will help you easily plan your safe and enjoyable journey thanks to a comprehensive key, a complete name in dex as well a clever time & distance chart. Michelin's driving information will help you navigate safely in all circumstances. In addition, some MICHELIN National Maps are cross-referenced with the MICHELIN Green Guide highlighting destinations worth stopping for! With MICHELIN National Maps, find more than just your way! MICHELIN NATIONAL MAPS feature: Up-to-date mapping A scale adapted to the size of the country A clear and comprehensive key Distance and time chart Place name index Driving and road safety information Tourist sights information Our maps are regularly updated even if the ISBN does not change. ...Show more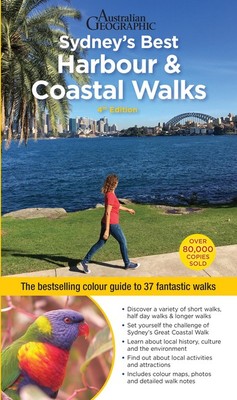 $29.99
AUD
Category: Travel Guides | Series: Woodslane Walking Guides
Sydney is one of the most beautiful cities in the world and regardless of your fitness level or experience, it's best seen on foot! This 10th Anniversary 4th edition of the bestselling Sydney's Best Harbour and Coastal Walks explores the length and breadth of Sydney's spectacular harbour, beaches and co astal cliffs and headlands. With this, one of Sydney's most beloved books, you can enjoy breathtaking views, stroll along golden beaches and discover hidden bushland secrets. This beautifully written and well-organised walking guide includes 36 walks of varying grades, easy-to-follow directions, accurate full-colour maps and over 150 full-colour photos. Read about Sydney's history and environment, and combine day walks with nearby activities and attractions. ...Show more